Knock Out Lingering Knee Discomfort & Fix Your Jumper's Knee Issue For Good
[ With Just Minutes At Home Each Day ]
Avoid all of the stressful medical exams, expensive x-rays, & unwanted Rx/drugs by mending your knee BEFORE surgery!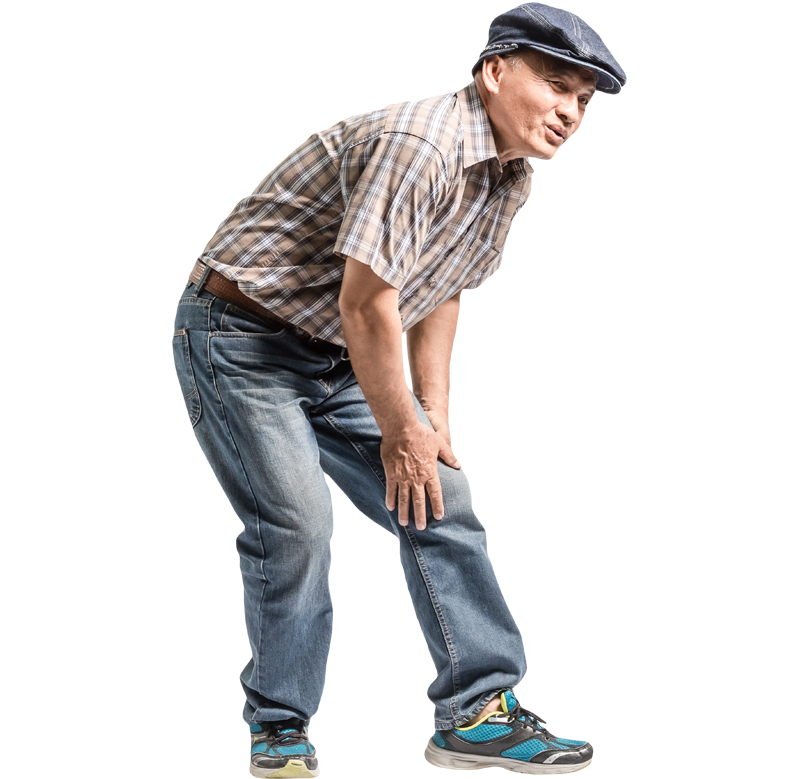 Dear knee pain sufferers,
This might sound familiar… You're finishing up a game, match, race, exercise, run, lift, ride, etc., and you suddenly notice a sharp, aching pain in your knee.
At this point, we all do the same thing.
Try to ignore it.
Walk it off, right?
But 'playing through the pain' is honestly the worst thing you could do.
A few days later…
(or whenever you go back for athletic activity)
It starts hurting again - worse than ever!
And your likelihood for necessary surgery increases.
At this point, more determined individuals might seek professional opinions.
That visit usually consists of a Jumper's Knee diagnosis, an expensive x-ray/ultrasound, and up to 6 months in pricey physical therapy.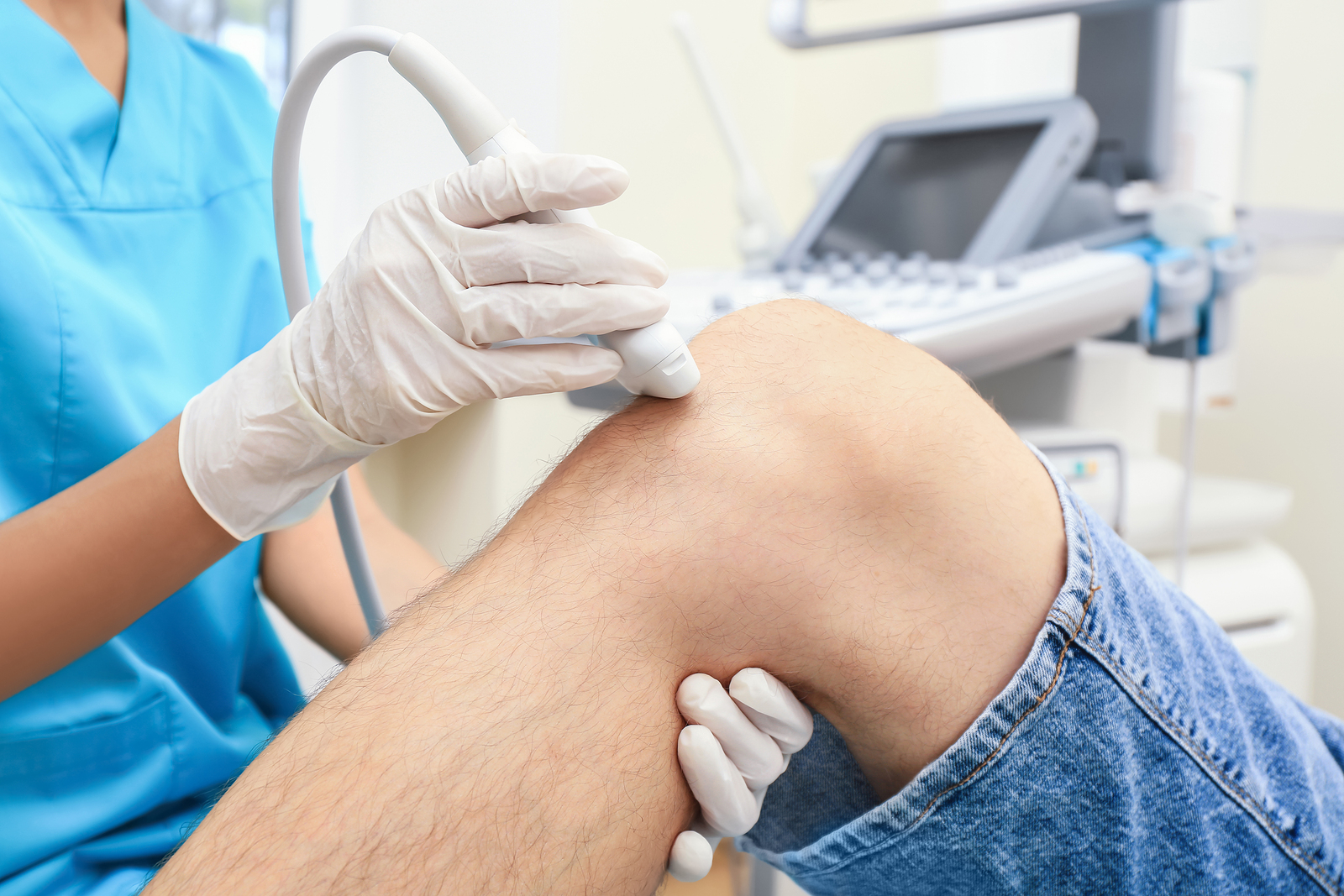 And the pain will likely come back still.
(especially if you don't know what to do afterwards)
Patellar Tendonitis and Patellar Tendinopathy -- also known as Jumper's Knee -- are caused by overusing and injuring your patellar tendon, which is the cord-like tissue that connects your kneecap (patella) to the shin bone (tibia).
This tendon moves every time your knee bends or straightens.
Constant jumping, landing, and changing directions can cause tiny tears to form in your patellar tendon, especially over time and as you get older.
These repetitive mini-traumas permanently damage the anchoring and support structure of your knee. If not cared for correctly, your tendon could get worse over time and ultimately require painful, expensive surgery.
And this issue can start with athletes of any age (even youth sports).
However, there are healthy ways to strengthen and support your knee…
So you don't EVER have to give up on the activities/sports you love!
If knee discomfort has you sidelined or struggling with your goals, then I suggest you read more about Jumper's Knee Solution.
A spirited foreign exchange student helped me start this...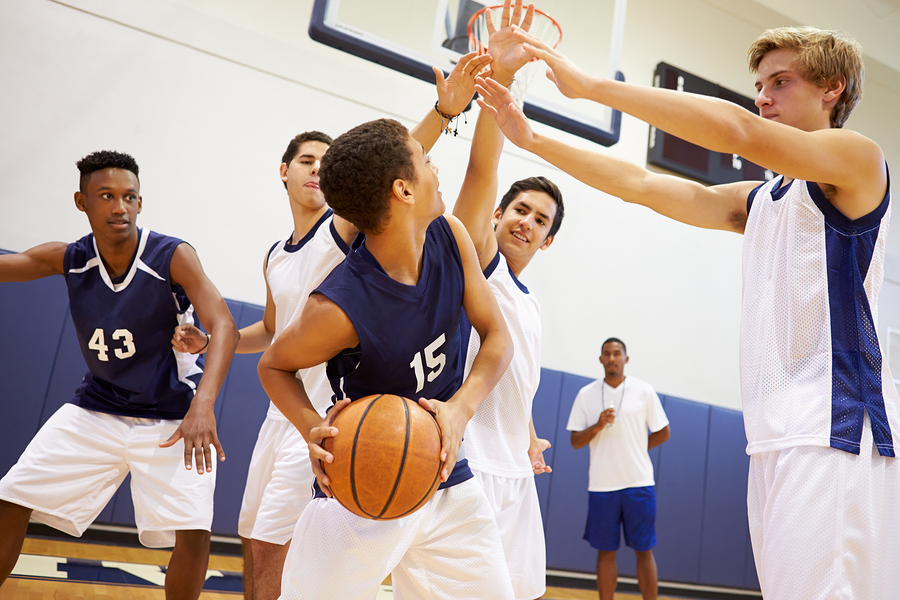 Although Jumper's Knee Solution encompasses my 20+ years of experience and Master's Degree in Exercise Science, the basic blueprint of this program began with a German foreign exchange student named Matthaeus.
He was a regular at this gym where I worked at the time.
Matthaeus was determined to make his high school basketball team.
To his credit, he had a few things working towards his advantage:
He was tall (almost lanky) for his age.
He could shoot pretty well from within the three-point line.
That said, he did have one flaw to his game.
Matthaeus was a turnover waiting to happen.
He wasn't good at dribbling the ball (or even catching it for that matter).
Sometimes he looked really awkward out there.
He definitely had potential… but lacked any extra time to practice or catch up.
Matthaeus was only in the country for one school year, and basketball tryouts were just a couple months away. Thankfully, he seemed to have a great group of classmates who included him in all of their pickup games.
I noticed his wide grin and wiry frame on the court almost everyday after school.
Until one day, he wasn't there… and then another.
His host family scheduled an appointment for him about a week later.
Apparently, they saw him limping around the house. Matthaeus insisted it was nothing, but despite his best objections, he still saw the family doctor for a Jumper's Knee diagnosis.
The doctor suggested a couple months of rest, and Matthaeus immediately objected. He wanted to work through his knee discomfort and still get ready for tryouts, so the doctor told him to see me first.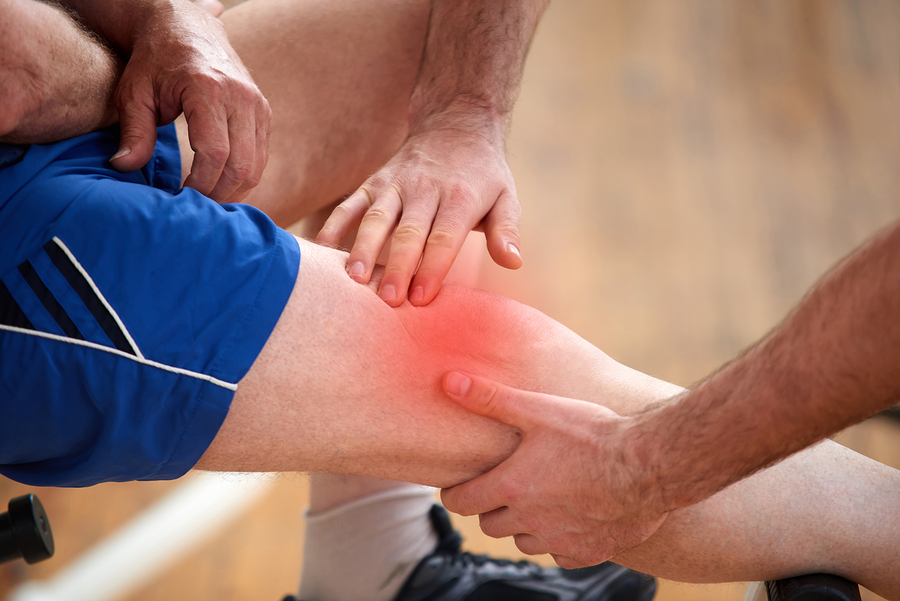 His host mother was very concerned about re-injury and making things worse.
During our first appointment, we sat down to get his background information. I had him stretch his leg, knee and foot to find which movements hurt more than others. That gave us a standard for his injury, range-of-motion, and potential improvement.
Matthaeus really committed himself to the program. At the end of our very first appointment, he asked for additional exercises… Things he could do at home.
I was surprised at his desire to push forward so quickly, but I wanted to encourage his enthusiasm - although I worried about hurting his knee again.
Every week, I would see Matthaeus.
Every week, his injured knee got stronger.
Every week, I would send him home with additional exercises.
And every week, he got better on the basketball court too.
Best of all, the knee pain started to stay away.
The young man inspired me to find better stretches, exercises, and overall strategies. I dove headfirst into more and more research.
I wanted to find the best plan for Matthaeus.
Most importantly, I needed to ensure his knee wasn't pushed too far. That's why I scoured for the most scientific methods to overcome Jumper's Knee.
During my research, I isolated 10 specific components that need to be addressed for healthy knee recovery.
That's what kept Matthaeus's knee in the game.
And it eventually got him on the team.
We were alI so proud of him.
Over the years, I have adapted, updated, and evolved this program into the current Jumper's Knee Solution. It has helped countless individuals who are suffering, and I have personally used it for a return to the volleyball court.
I continue to update this program with all the best research and up-to-date techniques, but the original roots of this began with Matthaeus.
And his groundwork has helped so many others too.
Understanding Knee Dynamics & Details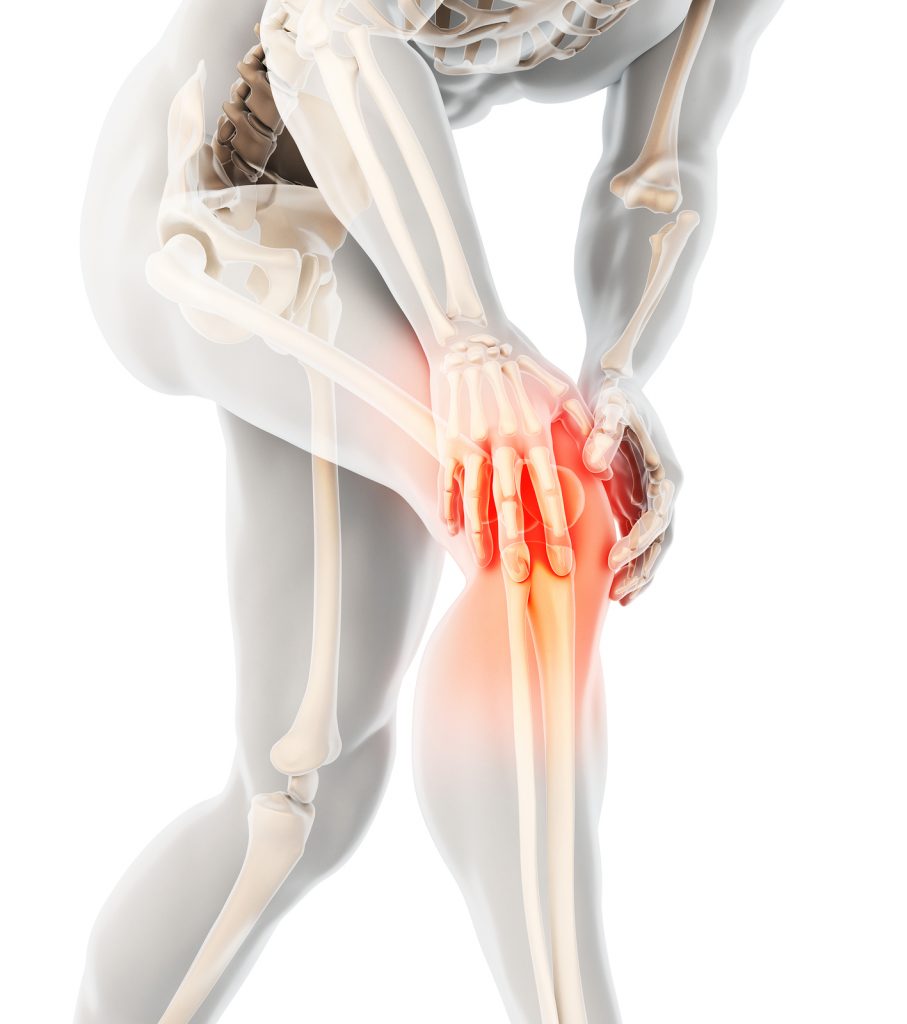 The largest joint in your body (the knee) works in conjunction with different bones, muscles, tendons, and ligaments to bend/extend correctly.
According to the Mayo Clinic, Jumper's Knee affects more than 200,000 U.S. patients per year (it happens to as many as 20% of 'jumping' athletes).
All athletes who put their knees through rigorous, regular workouts are highly susceptible to problems. Your likelihood increases as you add in other factors like prior injuries, being overweight, or insufficient training before the athletic activity.
Serious sufferers are usually unable to fully straighten their leg because of significant damage to their patellar tendons.
My program (Jumper's Knee Solution) will show you...
A comprehensive, step-by-step plan to fix your knee problems forever (instead of only treating the symptoms or injuries)
Secret ways to NEVER get Jumper's Knee in the first place
The proper amount of time to rest your knee -- so you don't risk re-injury
Proven pain-relief techniques to start RIGHT NOW for IMMEDIATE HELP
The most up-to-date exercises, stretches, sequences, theories, & methods to fix your Jumper's Knee sprain FAST
It is possible to enjoy a long walk or run WITHOUT any knee pain
How to SAFELY get back to the competition you love - ASAP
The most important movements to keep in mind when overcoming your issues
Several INCORRECT & INAPPROPRIATE stretches that make things worse
The perfect pace to safely ramp up your training & avoid Jumper's Knee too
A secret way to end your knee pain WITHOUT doing a single exercise
The best order of knee exercises to promote maximum pain relief
Specific stretches to increase flexibility & straighten your knee completely (even if you weren't flexible or able to do that before)
Methods to avoid any future knee problems by strengthening your tendons NOW
The WRONG exercises that probably contributed to your issues in the first place
How to sleep soundly knowing you can wake up pain-free in the morning
The 10 components you SHOULD ALREADY BE DOING to overcome your knee pain & KEEP IT AWAY FOR GOOD!
For people who have NOT gotten an "official" diagnosis yet…
Jumper's Knee is one of the most common issues for athletes who jump/run/stop at rapid speeds, and it's often self-diagnosed.
Common symptoms include:
Dull or sharp pain (below the kneecap) that begins after bending motions
Noticeable knee discomfort after extended walks or runs
An inability to sit down for periods of time without knee pain
Balance problems with a general reduction in range of motion
Stiffness, swelling, or tenderness of your lower kneecap
In extreme cases, bruising or redness may form around knee joints
It's a bigger concern for individuals who compete in basketball, volleyball, gymnastics, soccer, skiing/snowboarding, track & field or any activity where athletes endure repetitive, high-speed jumping and stopping.
Jumper's Knee Solution is a
SCIENTIFICALLY-BASED strategy!
This program is NOT just a random assortment of stretches and exercises that were carelessly thrown together (with ONLY hopes of helping your Jumper's Knee). Instead, this is a comprehensive training program that incrementally progresses towards your recovery.
I have perfected it through years of hands-on experience and medical research. It has helped myself, Matthaeus and countless other knee-pain sufferers.
Now it can help you too!
Jumper's Knee Solution is a comprehensive program that can cure your knee problems for good. It's important to know how each component adds to the overall HEALING and STRENGTHENING of your knee.
Letting you get back to your activities FASTER!
SELF-ASSESSMENT BUNDLE: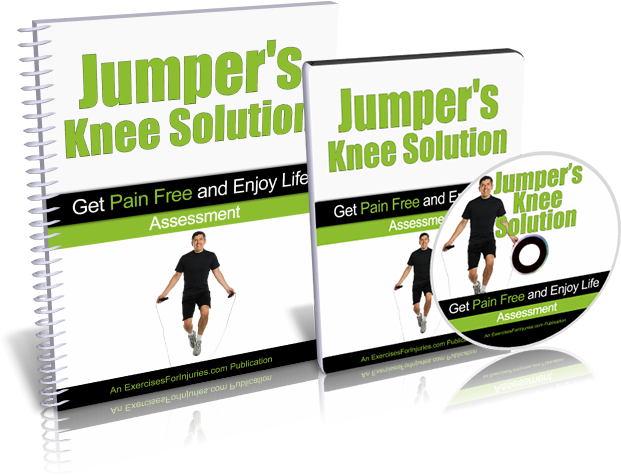 Assessment Video, Manual and Fill-In Sheet to Get a Standard for Your Personal Improvement
It's extremely important (before you get started) to assess your current physical condition. This is the very first thing I do every time I see a new client with any type of injury. It's the same thing I did with Matthaeus too.
We need to understand how much pain you're experiencing, the severity of your Jumper's Knee sprain and your overall range of motion.
Having this information as a guide will PREVENT further injury and help you achieve better results, in a shorter amount of time.
In this section, you will get a video and a brief manual to walk you through (step-by-step) completing the self-assessment. Based on that information, you'll know EXACTLY where and how to start with Jumper's Knee Solution.
You will also receive a convenient assessment Fill-In Sheet to write down your answers and results, while watching the assessment video and reading the manual.
CONDITION SUMMARY: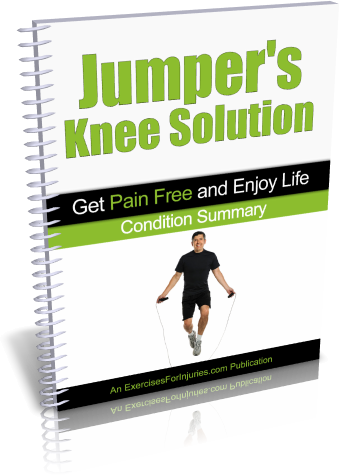 If you're currently suffering from knee discomfort, then immediate pain relief is priority number one, but that can't begin until you're up-to-speed on what you NEED to be doing NOW. That is why I created this Condition Summary.
Consider it the cliff notes for taking control of your Jumper's Knee - FASTER!
In this section, I consolidated my strategies into the KEY POINTS (explained in plain English), so you can immediately start relieving your knee pain - FOR GOOD.
3-STAGE COMPREHENSIVE TRAINING PROGRAM: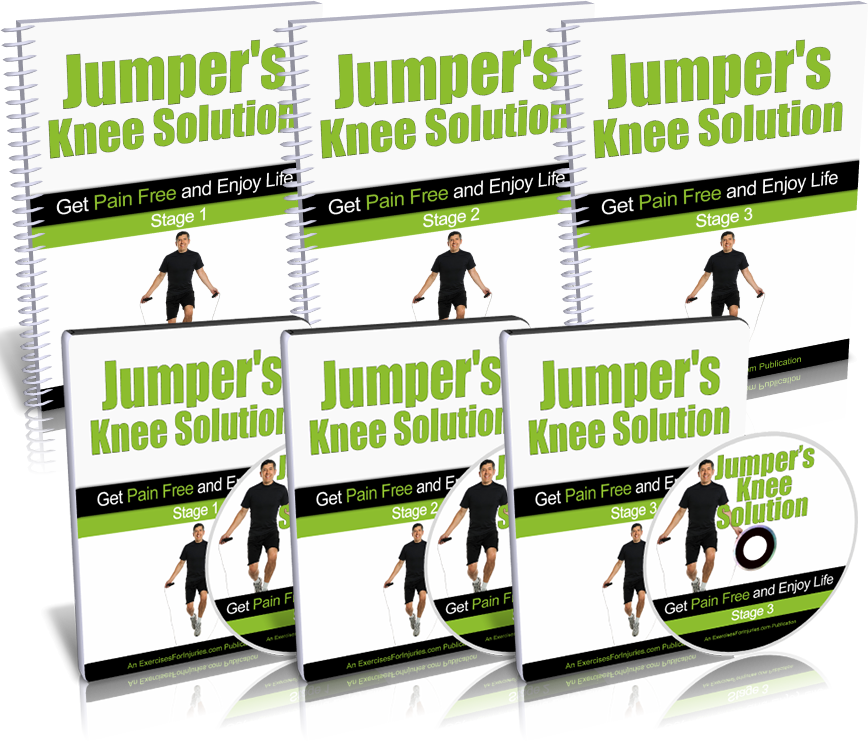 Your personal training and coaching sessions with Rick Kaselj, MS
Jumper's Knee Solution is an extensive program with easy-to-do and highly-effective stretches/exercises that guide you through the healing process, thus limiting the threat of reaggravation. The program is broken down into 3 separate stages. It begins with easier stretches (Stage 1) and advances to more challenging exercises (Stage 2). The final section (Stage 3) leaves you with the specific stretches and maintenance secrets to avoid Jumper's Knee in the first place.
This program allows you to self-direct and progress as fast as you want!
This structure is in place to ensure EVERYBODY can complete the program and cure their Jumper's Knee, while strengthening the entire area to resist future injuries.
For each of the 3 stages, you get 1 instructional video, 1 follow-along video and 1 manual (for a total of 6 videos and 3 manuals).
Here's the breakdown on each part…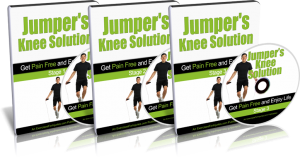 Instructional Videos: The instructional video you receive in each stage (3 videos in total) is your personal training session with me – Rick Kaselj, MS.
In these videos, I will cover, explain and slowly demonstrate:
Step-by-step stretches to be sure you're doing the movements correctly
The BEST exercises, resistances, frequencies and intensities for your knee
The most common mistakes people make, which often end in more injuries (avoid these ones!!!)
Follow-Along Videos: You will also receive follow-along videos in each stage (3 videos in total), which serve as your personal coaching session with me.
In these videos, you will follow my exercise assistant as I count out time and reps. They're perfect for workouts because these sessions are streamlined with less demonstration and more coaching/action. Helping you get it done!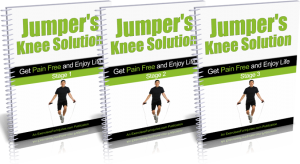 Manuals: The manual for each stage (3 manuals in total) is a playbook to help you navigate the program and stop your knee problems for good.
These PDF guides include all of the…
Scientifically-based and easy-to-do stretches, exercises and movements you will perform during the Jumper's Knee Solution program. (explained in precise detail with step-by-step instructions

).

Common mistakes that cause you problems (i.e. surgery) down the road.
Start-position and end-position photos for every individual stretch/exercise.
Ways to safely increase your progress as things become too easy.
More tips and advice for every part of Jumper's Knee Solution, including the CORRECT order, resistance, weight, frequency, and intensity for each workout (in more detail than the videos).
I want you to understand how each movement SHOULD feel during every stretch or exercise, so you can be CERTAIN you're doing it correctly.
QUICK-REFERENCE TRAINING GUIDE: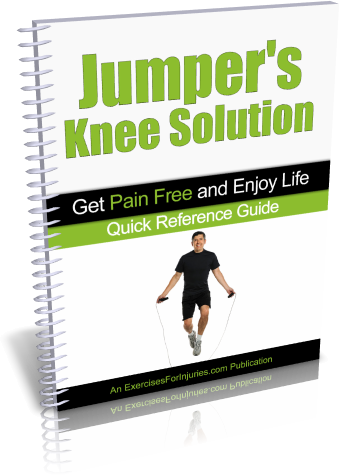 Although you can always refer to each different training manual, this quick-reference guide will allow you to access information in a faster, more convenient way. Each stretch and exercise is summarized in this guide with a start and end photo and instructions on how to proceed correctly.
It's a quick-and-easy way to verify finer points of the program.

(faster than fast-forwarding through videos or leafing through the large manuals)
Perfect if you're already familiar with the exercises and need a brief refresher!
STRENGTHENING/PROGRESS TRACKING SHEET: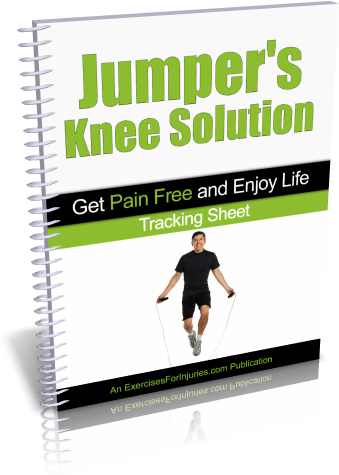 Like the self-assessment at the beginning, it's important to measure your progress throughout the entire program. Tracking your development will help you incorporate these exercises into your normal routine and give you extra momentum.
Check off the stretches and exercises as you complete them each day. It might only take a few seconds, but it makes a massive accountability impact in the long run!
The famous management consultant Peter Drucker is credited with saying…
"If you can't measure it, you can't improve it."
People who measure their progress during my programs generally eliminate their pain faster. And that's why I include these sheets: to keep you motivated, on track and progressing forward.
There are advantages to the format as well:
You can watch the videos ANYWHERE, ANYTIME, AS MANY TIMES as you want, and on ANY DEVICE, including: laptops, desktops, tablets, iPhones, or android smartphones.
SAVE MONEY by avoiding unnecessary medical appointments or sessions!
The lessons do NOT expire, can be accessed FOREVER and continuously get updated as better research and methods emerge.
You can watch the videos on your own time and at your own speed by stopping/rewinding the video or reviewing the manual at any point.
If you need to overcome knee discomfort, I suggest you check out…

(Regular Retail Price = $57)
Special Discounted Price
(THIS WEEK ONLY!) = $37
Get INSTANT ONLINE ACCESS to the Jumper's Knee Solution Program.
You get lifetime access to everything 24/7/365, on any computer or mobile device.
ATTENTION: This special offer will ONLY be available for the rest of this week. Jumper's Knee Solution is merging with a more expensive bundle soon; therefore, it's your LAST CHANCE to heal your knee at this DISCOUNTED PRICE.
See what other people have to say…
After using the program, I have seen an improvement in stability. It gives me a routine to work through. I use it in conjunction with other knee strengthening exercises.

Shona McKee

New Zealand
The best thing is how the program focuses on making you "function better," meaning, how it focuses on exercises to help you move better. The program helps you re-establish how the leg and knee should work in everyday life. Thanks.

Alan Czechowski

Ontario
The best thing about the program is the clear explanation for all exercises. It's a valuable program!

Lukasz Oleksy

Poland
I was unaware of how my bad habits were building up to create knee pain... The best thing about the program is the slow, calm, measured pace of Rick's advice, and the grounding effect it has for me. The program has really helped me get into a discipline of what I need to do to help my knee and my legs in general to gain some strength back and take better care of myself.

Nora B. Anderson

Colorado
Jumper's Knee Solution is a Complete Program:
For only $59 $37, you will receive the…
Self-Assessment Bundle

Video, Manual and Fill-In Sheet to Review Your Injury/Condition
1 Video, 1 Manual PDF, 1 Fill-In Sheet PDF

($57 value)

Condition Summary

1 Condition Summary PDF

($27 value)

3-Stage Comprehensive Training Program

Personal training and coaching sessions with Rick Kaselj, MS.
6 Videos, 3 Manuals PDFs

($137 value)

Strengthening/Progress Tracking Sheet

3 Progress Tracking Sheets PDFs

($27 value)

Quick-Reference Training Guide

3 Quick Reference Guides PDFs

($27 value)

> > >  TOTAL VALUE (7 videos and 12 PDFs)

$275.00

> > >  REGULAR PRICE

$59.00

> > >  YOUR PRICE (For a Limited Time ONLY)

ONLY $37.00
Take Control of Your Rehab & Relieve Knee Pain Faster!
If You Have Questions… We Have Answers
Q: "How long do I get access to the complete Jumper's Knee Solution?"
FOREVER – After the program is purchased, you will receive COMPLETE ACCESS for the rest of your life (with a LIFETIME supply of FREE UPDATES too).
Q: "Do I simply download my program videos, guides, sheets and manuals?"
YES – Once the program is purchased, you will receive instant access to all the downloadable materials, so you can immediately start healing your Jumper's Knee.
Q: "Is strengthening your knee the most important area of focus with Jumper's Knee?"
NOT ENTIRELY – Strengthening your knee is important, but it's not the only thing you need to be doing. You must decrease the tension placed on your knee, and it's easiest to do that by strengthening the other areas around your pain. However, too many exercises focus on the wrong parts, which eventually cause more harm than good.
Q - "How is this different than the other information I find from searching 'Jumper's Knee' on the internet?"
There is a lot of stuff on the internet about Jumper's Knee –
And it's not all good stuff.
Most things I've read only focus on one component (typically stretching) and neglect the other 9 areas of concern. Your pain will tend to return unless all of these parts are strengthened and recovered completely.
Doing random exercises you find on the internet could maybe help, but you're actually risking the possibility of making things much worse. I've known tons of individuals who have hurt themselves with incomplete and misinformation.
Jumper's Knee Solution takes away all that concern!
Q: "Do I need a gym membership or any special equipment?"
No. You only need your body, a floor, and a few inexpensive items like stability ball and jumping rope, that you can easily purchase online, a sporting goods store, or you can check our Exercises For Injuries Shopify Store. We explain everything thoroughly in the program and exactly how to use them.
Q: "Can I burn the videos onto a DVD?"
Yes, you can. You can download the videos to your computer and then burn them to a blank DVD. This allows you to watch the videos on a DVD player at home, on your laptop, or on a different computer that has a DVD drive.
Q: "Can I watch the videos on my smartphone or tablet?"
Absolutely! The videos are in a M4V format that you can be viewed from any computer, tablet or smartphone.
Q: "What if Jumper's Knee Solution doesn't work for me?"
The chances are very good that it will work for you, but just so you feel totally comfortable… if you decide, for any reason, or no reason at all, that you would rather get your money back, my team will make sure you get a full refund, as long as you request it within 60 days of your date of purchase… AND you can keep the entire program (and the 3 bonuses) as my gift, just for trying it out!

(Regular Retail Price = $57)
Special Discounted Price
(THIS WEEK ONLY!) = $37
Get INSTANT ONLINE ACCESS to the Jumper's Knee Solution Program.
You get lifetime access to everything 24/7/365, on any computer or mobile device.
100% Risk Free - 60-Day Money-Back Guarantee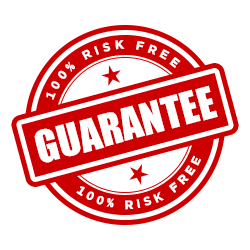 Jumper's Knee Solution comes with a 60-day, no-hassle, 100% money-back guarantee.
"Test drive" the program for the next two months, and if for ANY reason you are NOT satisfied, you can simply email me at support@ExercisesForInjuries.com, or call 1-888-291-2430 (toll free in the USA and Canada), or send an SMS to 1-888-229-4992, to ask for a refund. If you're not happy with the program (and it did NOT help your knee), I insist you take me up on it!
After seeing so many people overcome their knee problems with my program, I am confident you will be thrilled with the FAST and SAFE results.
Let me help you overcome your Jumper's Knee today.
All the best,
Rick Kaselj, MS
Kinesiologist/Injury Specialist
Founder of ExercisesForInjuries.com
If you do NOT already know me, my name is Rick Kaselj, and I work as an exercise-injury expert. My professional focus is to find natural strategies for rehabilitation and pain-relief, while traveling as an international presenter to share the recovery exercises. I have published numerous articles for newspapers and magazines and written leading exercise manuals. I have also given over 300 presentations to more than 6,000 health and fitness professionals across Canada and the United States.
P.S. There is NO RISK for you to try Jumper's Knee Solution. If you are not thrilled with this program and how it decreases your knee pain, let me know by emailing our Customer Support Team at support@ExercisesForInjuries.com. You can also reach our support team by calling 1-888-291-2430 (toll free in the USA and Canada), or sending an SMS to 1-888-229-4992, and we will process your request, no questions asked.
P.P.S. There is NO catch…
P.P.P.S. I take that back; there is ONE catch…
This special offer will ONLY be available for the rest of this week.
Jumper's Knee Solution is going to be merged into a more expensive bundle soon; therefore, it's your LAST CHANCE to heal your knee at this DISCOUNTED PRICE.
MAKE YOUR KNEE PAIN DISAPPEAR FASTER…
AND ELIMINATE YOUR RISK FOR RE-INJURY!

(Regular Retail Price = $57)
Special Discounted Price
(THIS WEEK ONLY!) = $37
Get INSTANT ONLINE ACCESS to the Jumper's Knee Solution Program.
You get lifetime access to everything 24/7/365, on any computer or mobile device.
NOTE: Jumper's Knee Solution is a set of 7 downloadable videos and 12 PDF files. No physical products will be shipped. After you order, you will gain INSTANT ACCESS to downloadable videos and PDF files. The PDF files can be viewed on Mac or PC. The video format is M4V, which can also be viewed on Mac or PC. If you have any questions or need help, you can contact us at support@ExercisesForInjuries.com.
Get Your Knee Pain-Free
And Start Enjoying Life Again!
References:
+
https://www.mayoclinic.org/diseases-conditions/patellar-tendinitis/symptoms-causes/syc-20376113
https://www.gstatic.com/healthricherkp/pdf/patellar_tendinitis.pdf
https://www.sports-health.com/sports-injuries/knee-injuries/understanding-jumpers-knee
https://www.webmd.com/fitness-exercise/jumpers_knee#1